Biography of President Eric Y. Ng
updated March 2018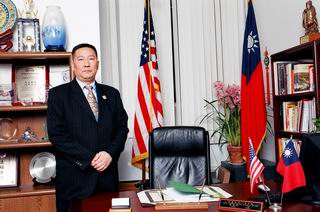 Eric Y. Ng is a well-known community leader and businessman in Chinatown. He had served as the President of the Chinese Consolidated Benevolent Association (CCBA) of New York from 2006 – 2008 and 2014 – 2016.
On March 1, 2018, he was inaugurated as CCBA President for his third 2 years term. During his term as the CCBA President, he also serves as the chairperson of New York Chinese School, Chinatown Daycare Center, Chinese-American Voters Federation and the Vice-Chairperson of the Chinatown Partnership Local Development Corporation.
Born in Toishan, China, Mr. Ng moved to Hong Kong in 1953 and spent his childhood there. He attended Tak Ming Middle School in Hong Kong, and he had served as the President of the Tak Ming Alumni Association in Eastern USA.
After immigrating to the United States in 1970, Mr. Ng was employed at numerous American companies while attending evening classes at New York City Community College and Bernard Baruch College. During weekends, he worked part-time at Genie Fortune Cookies, Inc. in Chinatown where he learned the technique of making fortune cookies. In 1976, he and a partner bought the business.
In 1978, he started a new business venture called Smart Bakery and imported the first automatic machine for producing fortune cookies in New York City. He was also the first person to print lucky lottery numbers in fortune cookies in New York City. In 1982, Mr. Ng started Smart Distributor Company, a wholesale business mainly dealing in selling coffee and eggs. From 1983 to 1988, he also worked as a licensed Real Estate sales agent.
Mr. Ng has been a community leader for more than 20 years. He has served as President of Hoy Sun Ning Yung Benevolent Association, Hip Sing Association in New York, National Hip Sing Association, Chinese Freemasons, Eng Suey Sun Association in New York, National Eng Suey Sun Association and the World Eng Family Association.
During his first term as the President of the CCBA, Mr. Ng has improved the community in many ways. He solidified relations between the CCBA and different City departments and agencies to solve many on-going problems in Chinatown, including insufficient parking spaces, illegal enforcement of parking regulations, confusing sanitation enforcement regulations, etc. Working closely with the NYPD, the NYPD community affairs bureau began hosting monthly seminars on different safety topics at the CCBA. Mr. Ng's efforts have resulted in the establishment of a direct channel to the government without language barriers. Mr. Ng was appointed as the Chinatown/Lower East Side Empire Zone Administrative Board Member by Mayor Michael Bloomberg and was appointed to the Community Board Reform Committee by Manhattan Borough President Scott Stringer.
Mr. Ng also worked with many main stream organizations to provide services to the Chinese-American community, such as the Visiting Nurse Service of New York and the American Cancer Society.
In December 2006, CCBA and the American Red Cross of Greater New York signed a Memorandum of Understanding to coordinate programs in Chinatown that will help prepare and train the Chinese community for any kind of emergency. Since then, the ARC has presented many seminars in Chinese and First Aid / CPR training at CCBA. Mr. Ng has also been appointed as an advisory board member of the American Red Cross's Manhattan chapter.
Under Mr. Ng's term of office, CCBA initiated two new events to promote Chinese culture, including the annual Confucius Memorial Ceremony and the annual celebration of Asian American Heritage Month.
Mr. Ng has over 42 years of experience doing business in Chinatown, and he had shared that experience with the Chinatown Partnership Local Development Corporation, whose efforts succeeded in making Chinatown a much cleaner neighborhood starting in 2006. He also worked with the local hospitals to provide valuable seminars and medical screenings for the community.
Mr. Ng is a world renowned stamp collector who has accumulated many valuable stamps from Hong Kong for his collection, some of which date back to the Victorian Era. He regularly attends major stamp collecting events all over the world.
Mr. Ng lives in Queens with his three sons.